10/17 – PTO Meeting Rm. 242 @ 7pm

10/23 – Donations due for Disabled Veterans – Field of Flags

10/27 – Halloween Carnival – SCHOCO Event 6pm – 9pm

10/28 – Halloween Ballroom Event 1:30 – 4:30 pm

10/31 – Dollars for Duds – Halloween Costumes

11/04 – Herobotix Tournament 10 am – 4 pm @ Evit Power Campus

11/10 & 11/11 – Musical Performance @ 7pm

 11/11 – Musical Performance @ 2pm

11/17 & 11/18 – Musical Performance @ 7pm

 11/18 – Musical Performance @ 2pm

11/18 – Herobotix Tournament 4 – 8pm @ Show Low High School

11/20 – Piano/Guitar Recital 6 – 7:30 pm

11/21 – PTO Meeting Rm. 242 @ 7pm

11/22 – 11/23 – No School – Thanksgiving Break

11/28 – Band Concert 6:30 – 8:00 pm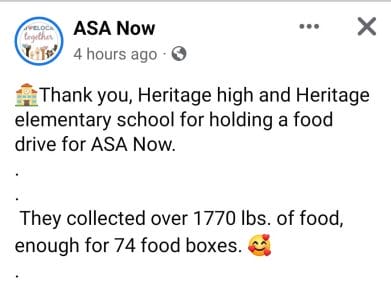 Reminder: Traffic lanes are being redirected on Germann Rd. and Pecos Rd.  Please plan accordingly and allow for extra time to travel through these areas.
The Queen Creek Police Department is excited to announce a new QCPD Cadet Program. The free program is an opportunity for Queen Creek youth, ages 14-19, to explore the exciting and challenging aspects of law enforcement with the goal of joining the Queen Creek Police Department in the future.
Space in the program is limited,  students who are interested are encouraged to sign up as soon as possible.
Students and parents  are invited to an orientation meeting, Oct. 17, 6:30 p.m. at the Community Chambers (20727 E Civic Pkwy).
Outdoor Field of Flags
Heritage Academy Gateway High School will display handheld-sized flags in grass, green spaces, and fields.
Schools are asked to raise a minimum of $200 by October 23rd in order to receive an outdoor flag kit.
There are still seats available.
The Puerto Rico trip is now open to ALL scholars regardless of grade level!
Click the link below for complete details. 
2024 Spring Puerto Rico Tour Flyer and Schedule Combined
Open Enrollment for the 2024-2025 school year will begin November 1st and will run through November 15th!
We anticipate a continuation of increased enrollment, with many new families eager for their scholar to benefit from the quality academic environment at Heritage Academy.
NEW SCHOLARS – If you have friends or family members that do not currently attend Heritage but would like to join us next year…they will need to complete the full enrollment application. The 2024-2025 school year option will not be available until NOVEMBER 1st!   CLICK HERE TO ENROLL ON NOVEMBER 1ST.   Open Enrollment will run through November 15th and the lottery will run in December. Heritage siblings do receive a priority and move to the top of the list.
EXISTING SCHOLARS –  No action is required at this time.  Once the re-enrollment portal is available, a link will be sent out to all current scholars to complete the re-enrollment form to reserve their spot for next year.
Purchase Your Yearbook Today!
Ready to grab your front-row seat to the action? Don't miss your chance to own a piece of this cinematic journey. Order your yearbook today and ensure your child has a piece of this unforgettable school year.
Are looking for something wholesome and good to do with your family?  The Heritage Gateway National Honor Society has partnered up with ASA Now, 
 a non-profit organization that focuses on helping children in foster care, to help support them in their different needs.  ASA Now is looking for volunteers to help with their Parent Night Out activity. 
You may volunteer to supervise children, run an activity, or serve food.
Volunteers supervising children will be assigned one child or two youth and will be playing games, doing crafts, and serving pizza and fruit to the children. Dinner will also be included for all of our amazing volunteers!
Heritage Academy Gateway Fanwear 2023
Purchase of a Heritage "Game Day" item will allow you FREE admission to all home games. "Game Day" shirt or sweatshirt must be worn on game day!  See flyer below for selection and purchase instructions.