All things SENIORS!
Class of 2022 Graduation Ceremony Information TBD
Graduation Information for the Class of 2022 – TBD
FAFSA Made Easy Application
Make sure you complete the FAFSA®, which is the application form you use to request financial aid from the government and from your future college.
You can fill out the form at the government website fafsa.gov, OR you can fill out an easier, more user-friendly version of the form on Going Merry. Both versions  are completely free, so we recommend using Going Merry.
How to Use the Going Merry FAFSA Made Easy application:
1.) Click on the Going Merry link above and login to your Going Merry Account (a free account has been created for you, please check your school email address for login information)
2.) Complete the "Onboarding" questions.
3.) Answer "Yes" to the FAFSA question.  After several questions, you'll see a prompt about federal financial aid, then click on the green box "Yes, show me how."
Scholarship Search Engines and Scholarship Opportunities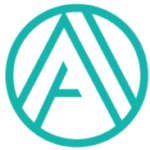 By completing the general application for the 2022-23 academic year, students will be matched with all of the awards for which they may be eligible.
High school seniors, current college students, graduate students, or adult re-entry students attending accredited schools anywhere in the U.S. may apply. Scholarships are available for two-year and four-year colleges and universities, as well as technical and vocational schools. Each award has its own deadline, with some closing as early as March and some as late as May.
Scholarship awards range from one-time $2,500 awards to multi-year $20,000 awards. APIA Scholars provides scholarships to underserved APIA students with a special focus on those who:
Live at or below the poverty level, or are otherwise of low socioeconomic status;
Are the first in their families to attend college;
Are representative of the APIA community's diversity, (geographically and ethnically}, especially those ethnicities that have been underrepresented on college campuses due to limited access and opportunity; and
Have placed a strong emphasis on community service and leadership as well as solid academic achievement.
APIA SCHOLARS MINIMUM ELIGIBILITY CRITERIA FOR 2022-2023 ACADEMIC YEAR:
Be of Asian and/or Pacific Islander ethnicity as defined by the U.S. Census
Be a citizen, national, or legal permanent resident of the United States. Citizens of the Republic of the Marshall Islands, Federated States of Micronesia and the Republic of Palau are also eligible to apply
Be enrolling as an undergraduate student in a U.S. accredited college or university in the Fall of 2022.
Have a minimum cumulative GPA of 2.7 on a 4.0 scale (unweighted) or have earned a GED
Must apply for federal financial aid for the 2022-2023 academic year using the Free Application for the Federal Student Aid (FASFA) by early April 2022
Submit one letter of recommendation online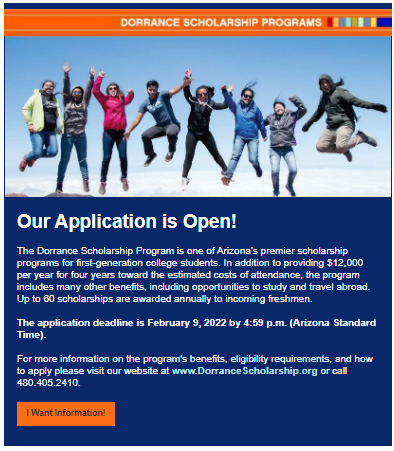 Eligibility:
* AZ resident and current senior at an accredited AZ high school
* First-generation college student (neither parent, stepparent, or legal guardian holds a four-year degree)
* Have a minimum cumulative 3.0 GPA (weighted or unweighted) AND have a minimum test scores of 1110 SAT (writing score excluded), 22 ACT Composite, 72 CLT, or 1050 PSAT (PSAT scores taken during your sophomore or junior year)
* Demonstrate financial need by completing the FAFSA
* Are accepted by one of AZ's three state universities (ASU-Tempe, NAU-Flagstaff, UA-Tucson) and agree to live in on-campus housing during freshman and sophomore year
As you know, the Opportunity Scholarships provide a guide for all students along their college journey and reward their efforts with chances to earn a $500 scholarship for each completed step. When students complete all six steps, they'll have the chance to win one of 25 $40,000 Complete Your Journey Scholarships!

Here are the six steps and timelines for the scholarship drawings:
Scholarship Search Engines
Going Merry

 – A free, one-stop scholarships platform. It matches you with scholarships and then helps you apply directly. It has both local and national scholarships and you can bulk-apply for multiple scholarships, which share similar essay prompts, using one application.

Scholar Snapp – A free, simple to use data standard that allows students to reuse their application information – including contact information, essays, transcripts, etc. – from one scholarship application to another thereby streamlining the college scholarship application process.
Scholly

 – A mobile app that provides students with a fast and simple way to find scholarships for college. (Created by Christopher Gray, a Coca-Cola Scholar!)

Peerlift – Proven scholarships, internships, summer programs, and more gathered by fellow students like you. (Founded by a team of 2017 Coca-Cola Scholars!) Learn more about the creation of Peerlift.
Fastweb

 – Create a profile and let fastweb do the research on scholarships, internships colleges and more for you.

CashCourse

 – Information that helps college students stay financially informed.

Common Kno

wledge Scholarship Foundation

 – Educational and scholarship opportunities for students of all levels.

Cappex 

– A free website where you can learn which colleges want you, before you apply and learn about more than $11 billion in merit aid scholarships.

Scholarships.com

– A free college scholarship search and financial aid information.

Scholarship America

 – Provides information and resources for your scholarship search.

KnowHow2GO 

– Complete information on college prep, whether in middle school or seniors.

HS Finder 

(Hispanic 

Scholarship Fund)

 

– Scholarship information for Latino students.

Thurgood Marshall College Fund

 – Provides scholarships, programmatic and capacity building support to the 47 public Historically Black Colleges and Universities (HBCUs).

Gates Millennium 

Scholars

 – Provides outstanding low income African American, American Indian/Alaska Native, Asian Pacific Islander American, and Hispanic American students with an opportunity to complete an undergraduate college education in any discipline they choose.

Asian & Pacific Islander American Scholarship Fund 

– The nation's largest non-profit organization devoted to providing college scholarships for Asian Americans and Pacific Islanders (AAPI).

American Indian College Fund

 – Provides Native American students with scholarships and financial support for the nation's 33 accredited tribal colleges and universities.

Dell Scholars Program

 – Recognizes academic potential and determination in students that have a definite need for financial assistance.

UNCF 

– Awards 10,000 students each year through 400 scholarship and internship programs so that students from low- and moderate-income families can afford college tuition, books and room and board.

Chegg

 – A place to connect with scholarships and learn about colleges.

Reagan Foundation Scholarships – Scholarship opportunities for outstanding student leaders.
Goizueta Legacy Scholarship – Provides scholarships for the children of Coca-Cola employees.
American Indian Graduate Center & AIGCS – The largest scholarship providers to Native students in the United States, awarding $15 million in scholarships annually and more than $200 million since inception. For almost 50 years, AIGC has funded students pursing undergraduate, graduate, and professional degrees in any field of study at any accredited institution of choice, working with over 500 tribes in all 50 states.
The NSHSS Foundation – The NSHSS Foundation fosters the growth of students pursuing the STEAM (science, technology, engineering, arts, and math), business, economics, public policy, and environmental science and sustainability fields. Through special programs, including the NSHSS Honor Society, the NSHSS Foundation connects young scholars with additional opportunities to advance their education, personal growth and career interests.
October
Haunted Ball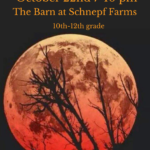 When: Friday, October 22nd
Time: 7:00 PM – 10:00 PM
Where: The Barn at Schnepf Farms
Who: 10th – 12th graders
Cost: $40 Couples, $25 Sincles
November
Senior Lunch November 17th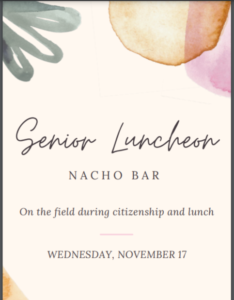 Senior Sunrise November 19th @ 6:15 AM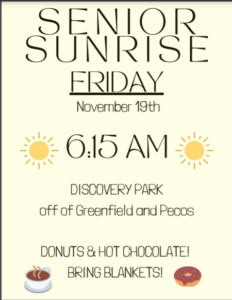 January
WINTER FORMAL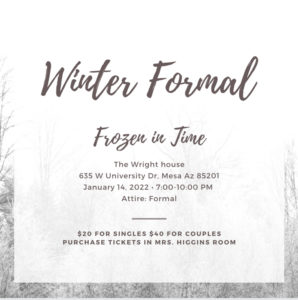 February
2/3 Mr. Superman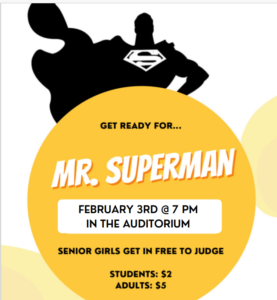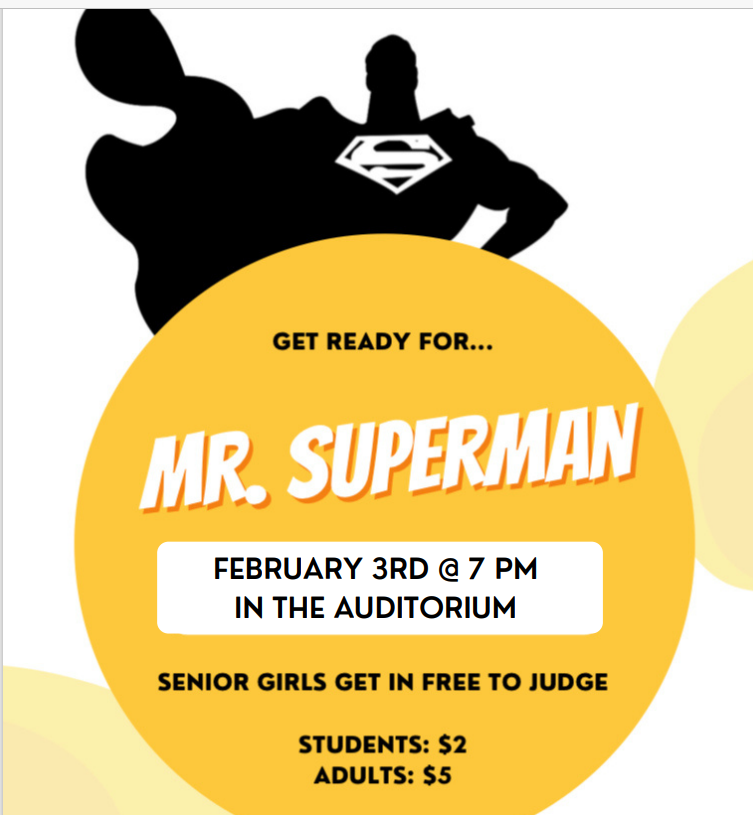 2/25 Sadie Hawkins
Where: Schnepf Farms (Big Red Barn)
Who: 9-12 grade
Time: 7-10 p.m.
March
3/25 Senior Sunset – details coming soon!
April
4/1 Prom
Where: The Farmhouse @ Schnepf Farms
Who: 10-12th grade
Time:  7-10 p.m.