05/17 – Yearbook Distribution and Signing Party 3:30 – 5pm

05/17 – PTO Meeting Rm 242  (zoom link option) @7pm

05/18 – Junior High Choir Concert 7pm

05/19 –  High School Choir Concert 7pm

05/23 – Mandatory Graduation Practice during lunch

05/25 – Last Day of Classes

05/26 – Jr. High Awards Assembly  8:30 – 10 am

05/26 – Sr. High Awards Assembly 10:30 – 12 pm

05/26 – Graduation Ceremony – Higley Center for the Performing Arts @ 7pm
The High School Art Show will be in the auditorium from May 13th – 18th.
Topic: Final PTO Meeting
Time: May 17, 2022 07:00 PM Arizona
Join Zoom Meeting
https://us02web.zoom.us/j/82945726676?pwd=emRHcjJlTlpGNTVNc2dvekJVZVJCdz09
Meeting ID: 829 4572 6676
Passcode: 9NQdsj
Monday, May 23rd
Mandatory graduation practice on campus in our auditorium  during the long lunch (11:20-12:05)
Thursday, May 26, 7:00 pm
Graduation Ceremony at the Higley Center for the Performing Arts!  
Seniors must report at 5:15.
There is no limit to the number of guests scholars may bring this year.
Dress Code is as follows: skirts, dresses or dress pants for women. Dress shirt, tie and dress slacks for men. All Heritage dress code standards apply including hair color & length, facial hair, and jewelry.  Scholars must wear their caps and gowns during the ceremony.
It's almost time for our year-end Jr and Sr High Awards Assemblies!
If your scholar(s) received all A's for both semesters in all of their classes they will be awarded a "Straight A" trophy during their assembly.
Please make sure to check your powerschool for their grades and have them there to be recognized for this amazing achievement!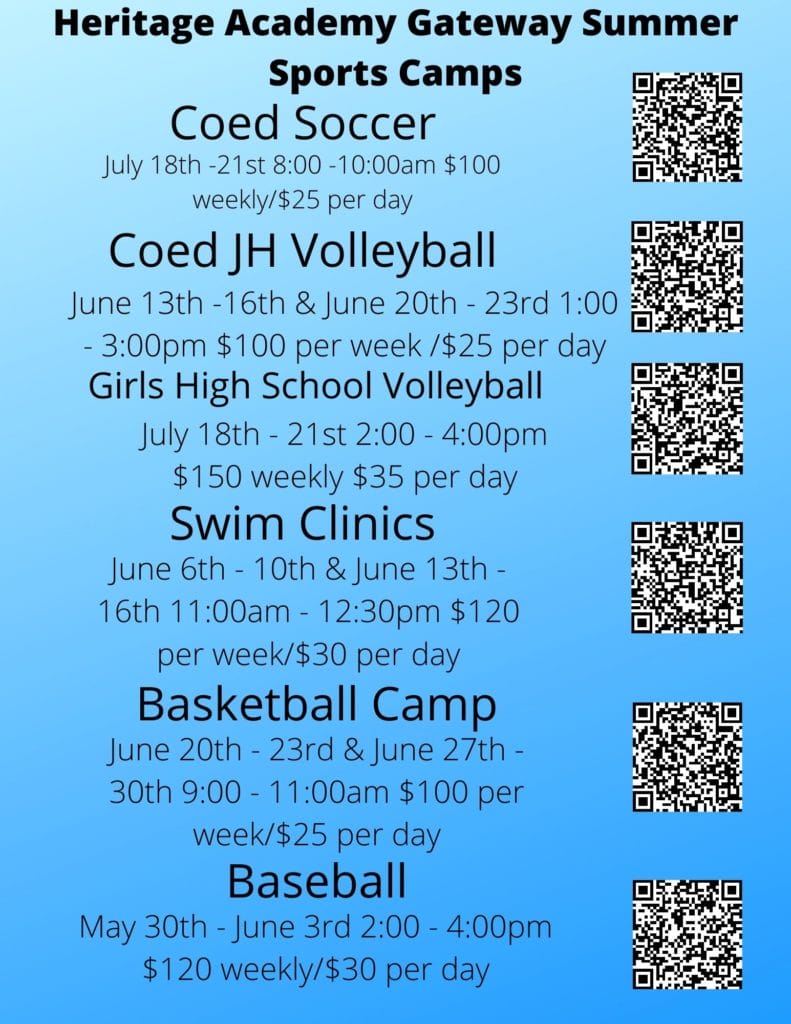 1st Annual Youth Football Skills Camp
Click Here for Summer Football Camp 2022 Details 
Camp registration is open until June 1st.  More information will be sent to all campers and families once registration is closed.  The camp will be limited to 60 kids so sign up quickly!  Please email 
christina.peop@heritageacademy.com
 with any questions!
Registration Link:
2022-2023 School Year New Scholar Enrollment- Do you have friends or family members that do not currently attend Heritage and would like to join us next year? Open Enrollment closed on December 31st. However, we are still accepting applications. Siblings of currently enrolled Heritage Academy scholars will receive priority. Be sure to mark the appropriate box on the application. CLICK HERE TO ENROLL TODAY