01/12 & 01/13 – Fine Arts Picture Day

01/14 – Winter Formal (10-12th Grades Only) @ The Wright House

01/17 – No School – Civil Rights Day

01/18 – PTO Meeting @ 7pm

01/19 – Tackle Football Meeting – Gym @ 6:30 pm

01/24 & 01/25 – 6th-8th Grade In-Class Writing Assessment

01/26 – Information Session (6th-12th grade) @ 5:30 pm

01/29 – Information Session (Pre-K-5th) @ 9am

02/03 – Seniors ONLY Spirit Shirt (no club shirts) Day

02/03 – Mr. Superman Event @ 7pm

02/09 – Dorrance Scholarship Deadline

02/15 – PTO Meeting @ 7pm

02/21 – President's Day – No School

02/25 – Schnepf Farms (Big Red Barn) 9-12th grade 7-10 p.m.

02/26 – Ballroom Showcase @ 9am – 4pm

02/28 – 6th Grade World Fair Night 5:30 – 7:00 pm

Second Semester Fees are due January 13th, 2022
To make a payment login into  myschoolbucks.com
Current scholars will be registering for their 2022-2023 classes during their English classes the week of January 18th. Scholars will be bringing home their course request sheets January 11th. Please help your scholar carefully complete the form, as the only changes allowed are those related to fee or medical issues. Parents must sign the form in order for scholars to register for classes.
More information regarding classes and instructions for completing the form will be emailed home January 11th.
Community Volunteer Opportunity
This month's service opportunity is going to be serving at Feed My Starving Children in Mesa.  If you are interested in joining us go to
https://bit.ly/3f96Sbn
and sign up as a family (not as a school group) for the
Feb. 4th
session at
9 am
.  There are currently 68 spots available, but these are not only for Heritage scholars and their families,  spots could easily be taken if you don't sign up soon.
Information Sessions Jan. 26th & Jan. 29th
Athletic Department
Athletic Packets – DUE ASAP
---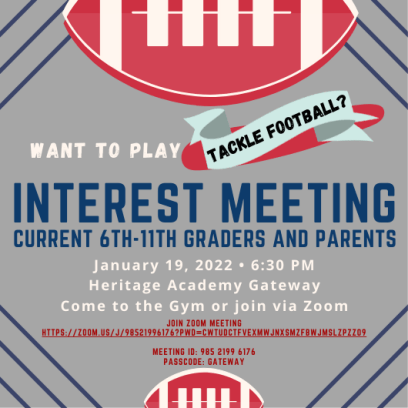 Join Zoom Meeting
If you have any questions please contact Coach Leavitt.
2022-2023 School Year New Scholar Enrollment- Do you have friends or family members that do not currently attend Heritage and would like to join us next year? Open Enrollment closed on December 31st. However, we are still accepting applications. Siblings of currently enrolled Heritage Academy scholars will receive priority. Be sure to mark the appropriate box on the application. CLICK HERE TO ENROLL TODAY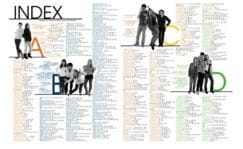 Yearbook Index Letters for Sale. 
$10 a letter.  Have your picture next to the letter of your last name. Limited quantities available.  Get yours now at the following 
link
For questions contact Mrs. Melchin: kmelchin@heritageacademyaz.com
LAST CHANCE FEBRUARY 28TH!
Yearbooks For Sale.
$50. 
Purchase Here
---
Want to advertise your business in our yearbook? Business Ads for Sale 
$100 for a quarter of a page. 2.125 x 2.75. Design your own or we will do it for you.
Click here to purchase
---
Thank you for your support.
Your Yearbook Staff
Hats – No hats will be allowed on campus this year except for the Heritage uniform hat, which can be purchased at the links below and picked up in the Athletic Directors office. Scholars will be asked to remove their hats while in the building.
Stay Connected – Connect with other Heritage Gateway families, ask questions, get information, and stay connected!  Request to join our Heritage Academy Gateway closed group on Facebook today: https://www.facebook.com/groups/242450109213019/
President:             Melissa Walton
Vice President:  Adam Thompson
Treasurer:           Jonathan Catlin
Secretary:             Lindsay Palmer
Historian:             Tyler Bergeron
Communications:   Suzy Irwin