04/28 & 04/29 – Musical Theatre Class Performance 7:00 – 9:00 pm

05/02 – JH & HS Orchestra Dress Rehearsal 3:45 – 5:30 pm

05/03 – Band Concert 6:00 – 7:00 pm

05/04 – JH & HS Orchestra Concert 6:30 – 8:30 pm

05/09 – NHS Induction Ceremony 6:15 – 7:00 pm

05/11 – End of Year Party at Elevate 8 – 10 pm @ Elevate Trampoline Park

05/12 – Dance and Ballroom Concert 7 – 9pm

05/13 – Dance and Ballroom Concert 7 – 9pm

05/16 – *Time Change–  Choir Concert 6:30 – 8:30 pm

05/20 – Ballroom Competition – 4 – 8 pm

05/24 – Last Day of Classes

05/25 – Awards Assembly (during the school day)

05/25 – Graduation Ceremony 7 – 8:30 pm @ Higley Center for the Performing Arts
The Addam's Family
young@part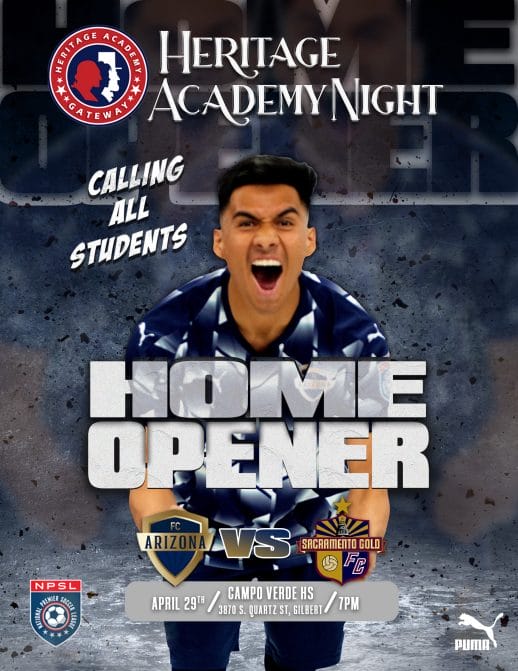 We are excited to announce that our HAG scholars have the opportunity to receive FREE tickets to the season opener for FC Arizona, a professional soccer team.  The game will be Saturday,
April 29, at 7:00 pm, at Campo Verde HS
. Scholars need to sign up for their ticket with Mrs. Despain at the front desk, Mrs. Lewis, or Coach Leavitt.  Other family members are welcome to come, but must purchase their tickets online at 
FC AZ family tickets
, or at the gate.  Ticket prices are as follows:
$10 for adults
$6 for students 18 and under
Get your friend group together, it's going to be great!!!
Heritage Academy's 24th Semi-Annual American History Excursion
"Independence History Tour"
to
Williamsburg, Washington DC, Philadelphia
Sun/Mon, October 8/9 – Saturday, October 14, 2023 – (6 days / 5 nights)
Payment information for summer sports camps will be posted in next week's campus update.